Sonido Software allows you to build an Online Booking Portal that can be published live on your website, allowing your clients to booking sessions directly with your studio! The booking flow will allow clients to select the appropriate Service and Package that they desire to book, select a booking date, time block and Engineer, as well as populate relevant details to complete the booking. If you require a deposit for bookings, they can enter their billing information to make payment upon booking.
When a booking is submitted through the Online Booking Portal, the following are automatically created within your Sonido account from the booking details:
Contacts: a new contact is created for the booking contact. If a contact with the same email address already exists within Sonido, a duplicate contact will not be created, but the booking will associate with the existing contact.
Projects: a new project is created for the booking contact with any relevant project details. The calendar booking is also tied to the project to show the booking history.
Calendar: a new calendar booking is created for the online booking submission. The calendar booking will either directly book as a confirmed booking, or will show as a pending booking, depending on your Online Booking Portal settings.
Invoice: a new invoice will be created for your booking if a deposit is required for the client in the booking flow. If a deposit is captured, the payment will also be recorded against the Invoice (and the funds will be deposited into your banking account).
Your clients have a convenient and intuitive way to book studio sessions through your studio using a laptop or computer.
The Online Booking Portal also allows existing clients that are booking new sessions to connect the new booking request to an existing project. If the email address used when booking the session is connected to an open (active) Projects within Sonido Projects, the contact will see an option to select from one or more Projects available (depending on how many open projects they have with the studio).
By selecting an existing project, the new booking request will be associated with the existing projects instead of creating a new duplicate project.
And the online booking flow is also fully responsive for a convenient experience from any mobile device when accessing your website!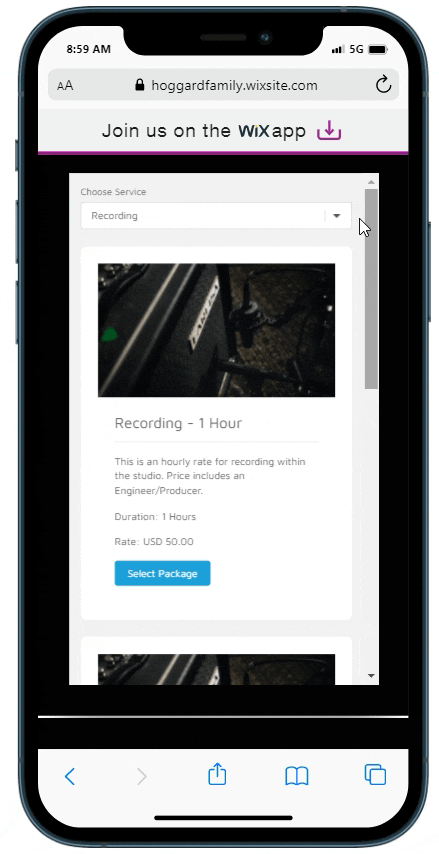 Sonido Software makes it easy for your clients to book studio time using a booking flow personalized to your studio services and capture all relevant details within your studio management system.
LEARN MORE